As I was devouring my Sunday breakfast, I was time to search the internet and read up on some interesting articles of the day. All of this as I was preparing to write another post to TheMcKeeSpot blog. I was planning to write about the happenings since my last post, reflect upon October coming to an end and it's now November. Christmas is right around the corner and I will have eclipsed another year at the Lab.
Then, among the articles in my news feed, I cam across a very interesting article. Entitled "The Five Universal Laws of Human Stupidity. We underestimate the stupid, and we do so at our own peril". Written by Corinne Purtill, the article that I read can be found at
https://getpocket.com/explore/item/the-five-universal-laws-of-human-stupidity?utm_source=pocket-newtab
Upon reading the article, I had to search the underlying premise behind an article on human stupidity. BTW, I thoroughly enjoyed the article.
The premise was created in 1976 by an economics professor at the University of California, Berkley. Personally, the work of Carlo M. Cipolla may be the best work that I have read published from UC Berkley (in my opinion), a school known for it's socialist agenda (in my opinion).
Another article on the work of Cipolla can be found at another magazine, The Guardian, known for writing some interesting articles.
https://www.theguardian.com/education/2012/apr/09/improbable-research-human-stupidity
The best takeaway from the articles, because Cipolla was an economist is that
Countries moving uphill have an inevitable percentage of stupid people, yes. But they enjoy "an unusually high fraction of intelligent people" who collectively overcompensate for the dumbos.

Declining nations have, instead, an "alarming proliferation" of non-stupid people whose behaviour "inevitably strengthens the destructive power" of their persistently stupid fellow citizens. There are two distinct, unhelpful groups: "bandits" who take positions of power which they use for their own gain; and people out of power who sigh through life as if they are helpless.

Marc Abrahams is editor of the bimonthly Annals of Improbable Research, as quoted from https://www.theguardian.com/education/2012/apr/09/improbable-research-human-stupidity.
Those two paragraphs struck me as very interesting, as it provides a simple explanation of why America is in decline. Our educational system is in decline and we are left producing more and more stupid people, at the expense of less and less smarter people. The end result is the decline and death of a nation. All because of an "alarming proliferation" of stupid people. Read about them all of the time, see many of them at work. They even have annual awards for some of their exploits (aka, The Darwin Awards).
I guess I only point this out because next week is election day. An off year for elections in our area, it's the election for the local school board, school bonds, and other such stuff that has become part of the democratic process. School boards and elections have become big things of late, based on the news and the Virginia governor's election. It is time to get our country moving in the right direction, before it is too late.
Interesting reading. I even found that Cipolla wrote a book, available for purchase on this and other topics, as identified here:
https://www.goodreads.com/author/show/210480.Carlo_M_Cipolla
I hope that I cited the necessary works of others in this blog post. As I find helping my children with homework assignments, I often turn to the internet for help, as do they. I constantly remind them of the importance in citing other people whose words and ideas that you use, even in reports. I have come to find out that my children's teachers run the reports, essays and other written words through various programs, specifically looking for plagiarism.
But I digress…
Tonight is Halloween. It was cancelled last year because of COVID, but this year, it appears that the kids will be able to go trick-or-treating in the neighborhoods. So I have my supply of candy just in case. Didn't really do much in preparation, like decorations around the house, I didn't purchase a Joe Biden mask, and not sure if the kids are going trick-or-treating in the neighborhood. Neither one certainly spent any time getting a costume. We didn't carve any pumpkins. As time marches forward, the things we did in the past, simply fade away and become memories, provided we have caught them on or IPhone.
Yesterday was full of many college football games, which caused me to be a couch potato and scream at my TV for most of the day. Michigan State beat Michigan, and Ohio State beat Penn State. Sets up some interesting games as we move through November when Michigan State plays Ohio State, Michigan plays Penn State and the granddaddy of them all, Michigan plays Ohio State. Clearly there will be much excitement over the next few weeks as we approach Veteran's Day and Thanksgiving.
Another tradition of sorts is happening, starting this weekend. McDonald's is bringing back the McRib sandwich. I will always choose the McRib, over the Big Mac. It is so newsworthy that it actually made the business pages…
McDonald's announced the sandwich's return back in September. | Fox Business
https://www.foxbusiness.com/lifestyle/mcrib-returns-next-monday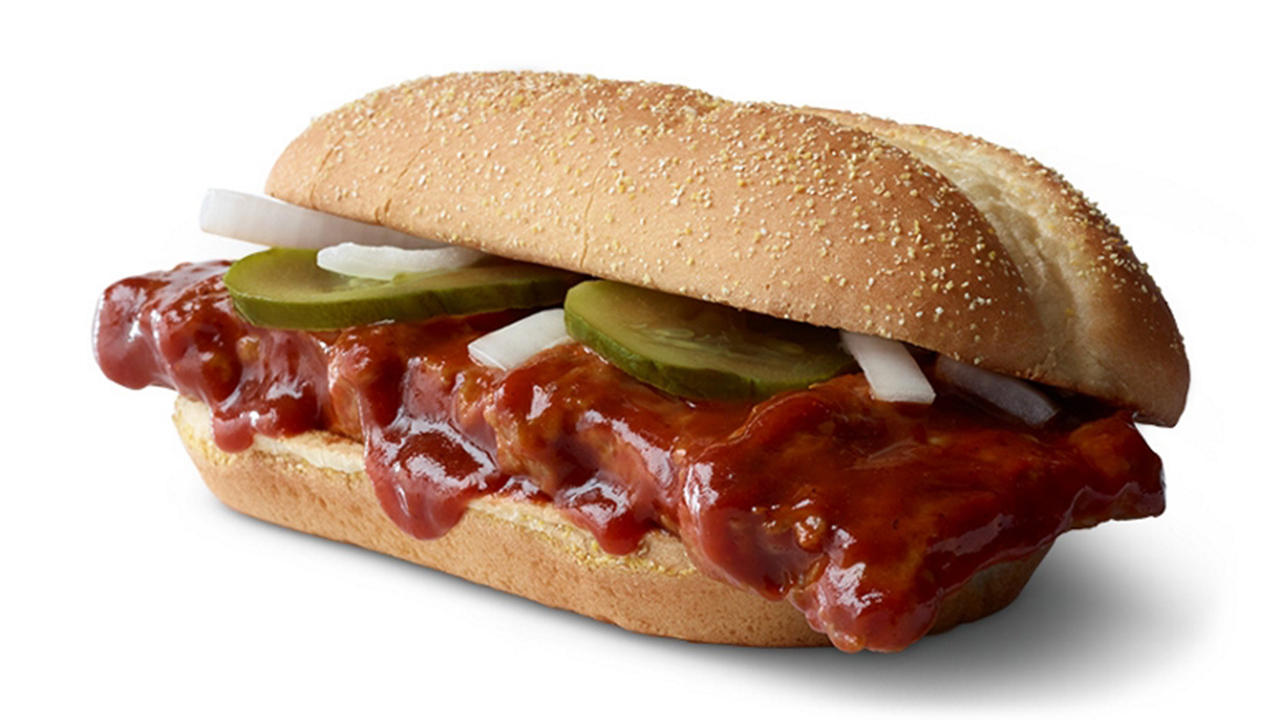 Not to be outdone, our local McDonald's has already started selling the most delicious fast food item…here are my pictures from my order…
Why is it that what you order never, ever looks like the advertisement? Needless to say, my McRib tasted very good, which made me wonder if the advertised sandwich depicted above looks better than what I purchased and pictured, how is the taste? Better? As I contemplate these possibilities, I also envision that I might even venture out to find the Arby's version, as they have advertised their latest creation, which doesn't involve processed pork. I am a foodie at heart.